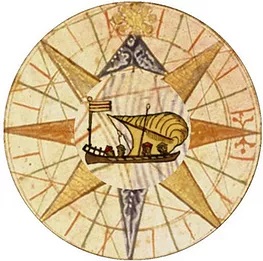 In Transit: Arts and Migration around Europe was an interdisciplinary humanities project launched in 2016 by Duke faculty and students from the Departments of Romance Studies, and Art, Art History & Visual Studies, in collaboration with the Nasher Museum and the Franklin Humanities Institute through its Social Practice Lab.
In Transit was a Learning community linking courses and seminars, guest speakers, and art practice over 2 years (2016–18). During the fall of 2018, it offered Pathways formed by a multisite art installation at the Nasher Museum, the Rubenstein Arts Center, the John Hope Franklin Center, and the David M. Rubenstein Rare Book & Manuscript Library. Participants following a path, a seminar or attending a lecture formed groups and engaged in conversations with a variety of perspectives on those who live intrepidly in exile in and around Europe.
inTransit Posters
The migration of hundreds and thousands capturing public attention is cast as today's crisis. The inTransit research group came together to investigate the opposite view: migrants have been defining and enriching cultures over centuries – those of the 'Old' World as well as the 'New'. Our work addressed the arts and politics of migration in major regions of the globe where Romance languages are spoken: Europe, North and South America, North & West Africa.
The inTransit group believes that to understand the question of migration fully, it is vital to recognize its contexts, to reckon with the range of representations and actions in the past in relation to the present. It is key to continue developing learning communities that could bridge ideological divides and contribute to current debates on migration.
The project is now taking the form of a collection of essays in preparation.